Banbury to Heathrow Airport Taxi Transfers
Travel in comfort and luxury to Heathrow (LHR)
As one of the busiest and largest airports in the world, Heathrow can be quite a daunting place to drive to. You have to arrive in plenty of time, find somewhere to park, then get from your parking place to the airport. Also, parking there is expensive! Let us ensure your holiday or business trip gets off to a stress-free start by getting you there on time, in a comfortable taxi and feeling relaxed.
The airport is so large that the various terminals have different Longford postcodes for satnavs depending which one you need to fly from (one of the biggest airports in the world)! Terminal 1 (TW6 1AP), Terminal 2 (TW6 1EW), Terminal 3 (TW6 1QG), Terminal 4 (TW6 3XA) and Terminal 5 (TW6 2GA). Not surprisingly, Heathrow is the second busiest airport in the world and a very common destination for our passengers.
Let us handle the traffic on the M40, M25 and M4... you won't have to worry about the journey and can simply relax while our taxi driver takes the strain. When we arrive at Heathrow Airport we'll drop you off at the closest possible place to your terminal. We are based in Banbury, so we know the area and the routes very well. It's a stress-free taxi transfer service.
We monitor traffic levels for the entire route and will adapt the journey if delays are probable to keep you on time.
Banbury to London Heathrow Airport - Car from £95, MPV from £130
Whether you only fly occasionally or are a frequent flyer, we will collect you from anywhere in Banbury or the surrounding villages and take the stress away from your journey. Please ask us if you have any special requirements, such as wheelchair access, because we're always happy to help.
Returning to Banbury from Heathrow
After your holiday or business trip is over, it's time to come home:
We will check your flight details will be waiting for you when you arrive at the airport.
Your taxi chauffeur will be holding a board with your name on it so he can be easily spotted.
Our driver will assist you with your luggage and escort you to your car or taxi.
If we have any problems finding you, the driver will call you on your mobile phone.
If you have any issues, you can call us here in Banbury, and we'll pass any message on to your driver.
Our chauffeurs and drivers have the experience and expertise to ensure that airport arrivals and airport transfers are accomplished quickly, smoothly and in a timely fashion.
Call us today on Banbury (01295) 270 743 for more information about our airport transfer services.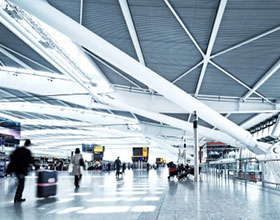 Heathrow taxi transfers from Banbury by Traveliner:
Get to Heathrow on time
Arrive in comfort
Feel relaxed
Pressure-free transport
Air-conditioned taxis
Arrive at Heathrow Airport in comfort and style, contact us.
Are you looking to transfer to a different airport?
No problem: