Banbury to Gatwick Airport Taxi Service
Travel in comfort & luxury to Gatwick Airport (LGW) and start your holiday or business trip in style!
Gatwick Airport is one of England's most popular airports (Horley, Gatwick RH6 0NP), and a popular place to fly from to locations all over the world. The route from Banbury includes a large portion of the infamous M25 motorway, and can be a stressful journey if you're driving yourself. Well, there is no stress with a Traveliner of Banbury taxi... we get our passengers there on time and relaxed! Parking at all major airports can be a considerable expense, so let us remove the worry and expense of having to find somewhere to leave your car. Let us ensure your holiday or business trip gets of to a stress-free start by getting you there on time, in comfort and relaxed.
There's no hassle trying to transport heavy items to a bus or train. Just imagine how easy and convenient your trip to the airport can be... we'll collect you and your luggage from your home, and drop you off at the airport right outside your terminal, especially if you're a frequent flyer. It's a true 'door to door' transfer taxi service.
Banbury to London Gatwick - Car from £130, MPV from £160
We're a flexible company, so please don't hesitate to ask if you have any special requirements, for example wheelchair access.
Returning to Banbury
You've had a great holiday or successful business trip, so now it's time to come home:
We will check your flight details on our secure system and will be waiting for you to arrive at the airport.
Our taxi chauffeur will identify themself by holding a board with your name on it.
We will assist you with luggage and accompany you to your car or taxi.
If you have provided your mobile number, we will call you if we have difficulty in finding you.
You may also call our Banbury office for us to pass your message on to your chauffeur.
Our chauffeurs and drivers have the experience and expertise to ensure that airport arrivals and airport transfers are accomplished quickly, smoothly and in a timely fashion.
Call us today on Banbury (01295) 270 743 and arrange your trip to Gatwick Airport!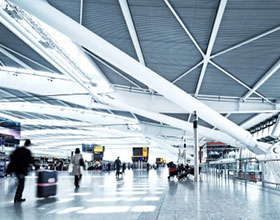 Gatwick transfers from Banbury by Traveliner:
Travel to the airport in comfort
Arrive on time
Arrive relaxed
Pressure-free transport
Air-conditioned taxis
Arrive at Gatwick Airport in comfort and style, contact us.
See also: