Banbury Airport Taxi Service
Arriving at your airport on time, relaxed and without stress is the best way to begin your holiday or business trip. At Traveliner we care about your journey, and aim to deliver or collect you from your airport with the minimum of fuss and the maximum of luxury.
Airport Taxi Price Guide (all prices are from Banbury, Oxfordshire)
London Heathrow - Car from £95, MPV from £130
London Luton - Car from £95, MPV from £130
London Gatwick - Car from £130, MPV from £160
Stansted Airport - Car from £135, MPV from £170
East Midlands - Car from £95, MPV from £135
Birmingham Airport - Car from £70, MPV from £100
If you have any special requirements... please ask!
Your return journey
Let Traveliner take the strain out of your journey back to Banbury:
We monitor your flight details on our secure system and will be waiting for you at the airport.
Our chauffeur will identify himself by holding a board with your name on it.
Our driver will assist you with your luggage and escort you to your car or taxi.
If you have provided your mobile number we will call you if we have difficulty in finding you.
You can also call us if you wish and we will pass your message on to your chauffeur.
Our chauffeurs and drivers have the experience and expertise to ensure that airport arrivals and airport transfers are accomplished quickly, smoothly and in a timely fashion.
Call us today on Banbury (01295) 270 743 for more information about our airport transfer services.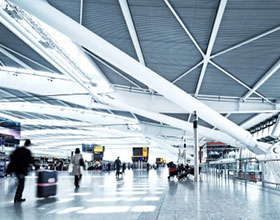 Airport transfers from Banbury by Traveliner:
Travel to your airport in comfort
Arrive on time
Arrive relaxed
Pressure-free transport
Air-conditioned taxis
Banbury - Birmingham
Ask us about other UK airports
Arrive at your airport in comfort and style with a Banbury airport transfer by Traveliner, contact us for a quote.